Detailed Product Description

APKT170408-PM cnc milling inserts carbide tools tungsten carbide inserts R390 Indexable Insert For milling Cutter
Description:
CNC Tungsten carbide inserts for metal machining , tungsten carbide milling inserts
Zhuzhou Kelite Tungsten carbide inserts
1. Made in 100% virgin carbide powder, excellent wear resistance and toughness;
2. High performance CVD/PVD coating, with super hard and smooth surface;
3. Performed 200% inspection, under ISO9001:2008 quality system control;
4. Professional chip-breaker design, provides perfect cutting performance;
5. Precise dimension, high accuracy;
6. Super long and consistent tool life;
7. Customized insert design, coating, marking, packing are available.
Details of carbide milling inserts APKT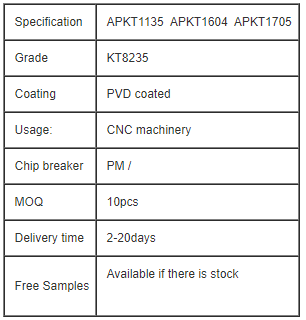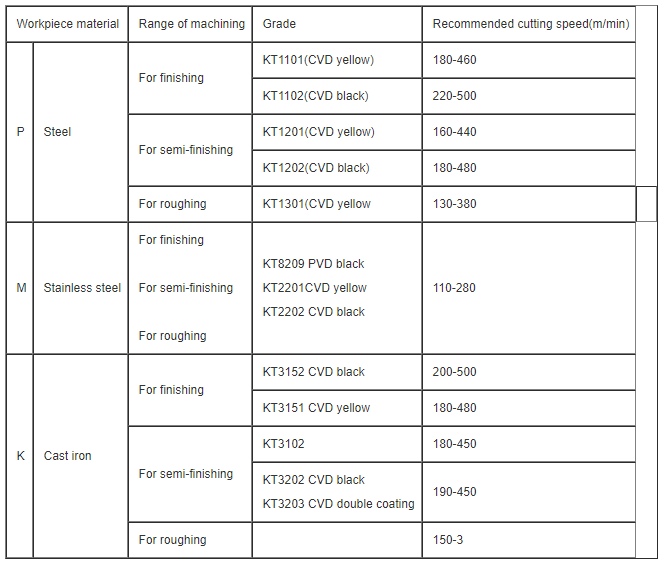 Main Grade Introduction
Application of CNC tungsten carbide turning inserts/ Carbide inserts/Tungsten carbide Milling inserts :
Suitable for hardened steel , grey cast iron , chill cast iron, stainless steel , powder matellurgy
work piece, thermal spray coating work piece and aluminum ,used for finishing /semi-finishing or rough.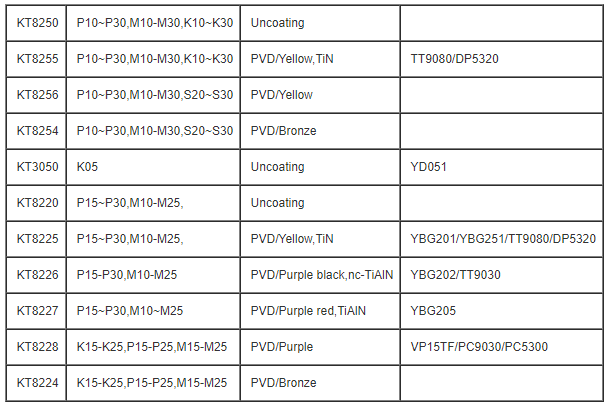 Commonly used milling inserts models: APMT/APKT/AOMT/SEET/BLMP/ONHU/RDKW/RPMT/RDMT/RCMX/RCKT/3PKT/WCUX/WOGU/TPKN/LNKX /SPMT/SPUN/TPGN/WPGT...
Feature Advantages: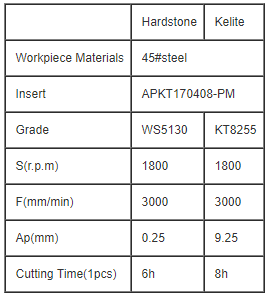 KT8255 ---- Compare with KT8235 under the same strength conditons ,excellent bending strength and thermal shock resistance, combine with high thermal stability TiAlN multi-element coating provides more effective protection for the cutting edge which are universal applicable to steel, cast iron, stainless steel, stainless iron and other materials in finish and semi-finishing process, better versatility and longer life.
KT8255 grade it's fully applicable to steel ,cast iron, stainless steel,and super hard materials ,semi-finish milling.
1.Unique post-blade double angle and side edge enhancement design with edge strengthening treatment;
2.KT8255 grade adopts the super-fine grain strength matrix of metal phase reinforcement technology, greatly improves the bending strength and thermal shock resistance of inserts while keep the same
Zhuzhou Kelite Advanced Materials Co., Ltd. produce an extensive range of tungsten carbide grades inhouse including the popular ISO application grades of K05,K10,K20,K30,K40,P10,P20 & P30/40, as well as numerous special Cobalt and also Nickel binder tungsten carbide grades for use in corrosine resistant applictions.
Our production are exported to UK, European, Japan, Taiwan and South-east Asia etc.
Products photoes: