Detailed Product Description

APMT1135-KM cnc milling inserts Mould Milling Process Carbide Tools Tungsten Carbide Inserts
Description:
CNC Tungsten carbide inserts for metal machining , tungsten carbide milling inserts
Zhuzhou Kelite Tungsten carbide inserts
1, High hardness (8~93HRA, equal 69~81 HRC)
2, Good hot hardness (can reach 900~1000°C, keep 60HRC)

3, Excellent wear resistance

4, Increase the cutting speed

5, Improve production efficiency

6, Shorten the production cyle.

Recommended cutting parameters of carbide turning inserts: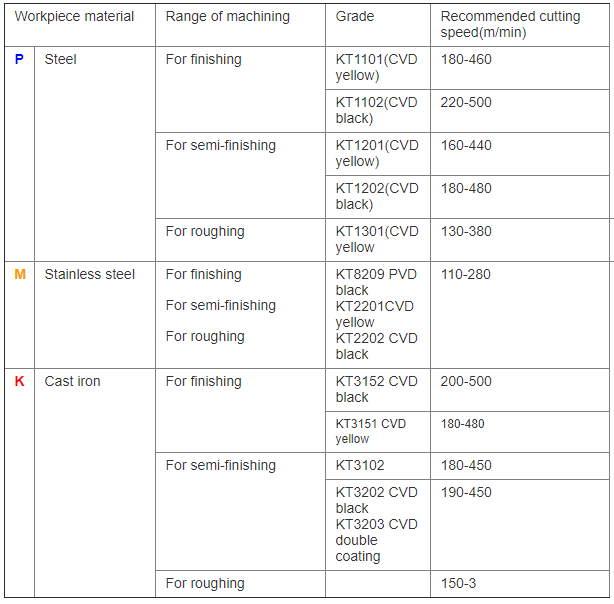 Mould Milling Process
Main Types Introduction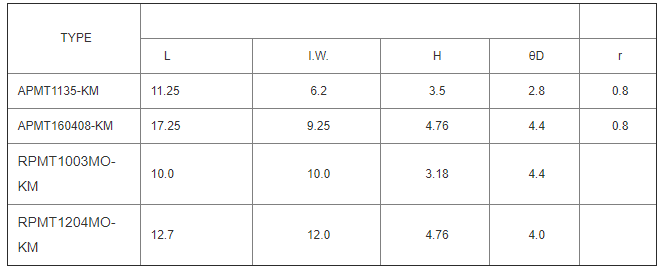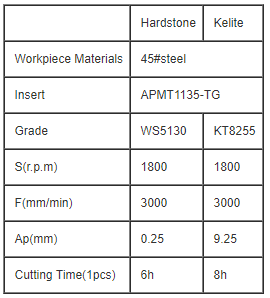 New design of mould milling Inserts series , it suitable for surface milling, square should milling ,cavity milling etc, has the advantage of high versatility ,long working life and high cost performance .
KT8255 grade it's fully applicable to steel ,cast iron, stainless steel,and super hard materials ,semi-finish milling.

1. Unique post-blade double angle and side edge enhancement design with edge strengthening treatment;
2. KT8255 grade adopts the super-fine grain strength matrix of metal phase reinforcement technology, greatly improves the bending strength and thermal shock resistance of inserts while keep the same
KT8255 ---- Compare with KT8235 under the same strength conditons ,excellent bending strength and thermal shock resistance, combine with high thermal stability TiAlN multi-element coating provides more effective protection for the cutting edge which are universal applicable to steel, cast iron, stainless steel, stainless iron and other materials in finish and semi-finishing process, better versatility and longer life.
Zhuzhou Kelite Advanced Materials Co., Ltd. produce an extensive range of tungsten carbide grades inhouse including the popular ISO application grades of K05,K10,K20,K30,K40,P10,P20 & P30/40, as well as numerous special Cobalt and also Nickel binder tungsten carbide grades for use in corrosine resistant applictions.
Our production are exported to UK, European, Japan, Taiwan and South-east Asia etc.
Products photoes:
Other company inserts abrasion (Left Photo) Kelite Inserts Abrasion Much Better (Right Photo)