Detailed Product Description

Indexable Lathe Tools DNMG150608-PMK Cnc Turning Inserts For Steel Yellow and Black Double Color
Description:
Carbide Insert DNMG150608-PMK:
1. Made in 100% original carbide powder, excellent wear resistance and toughness;
2. High performance CVD/PVD coating, with super hard and smooth surface;
3. Performed 200% inspection, under GB/T 19001-2016 /ISO9001:2015 quality system control;
4. Professional chip-breaker design, provides perfect cutting performance;
5. Precise dimension, high accuracy;
6. Super long and consistent tool life;
7. Customized insert design, coating, marking, packing are available.
DNMG150608-PMK it's one type of well commented carbide turning inserts, it is very popular among our customers all over the world.
Suitable to the holders DDJNR/L at the same it can used in different situations during machical turning process conditions.
It's cemented carbide insert of double color CVD coating. And this type has samples in stock commonly. Have different choices for dimention, chipbreakers and grade, normally it's 15 size, with different corner radius.
Applications:
KT1203 --- Steel Machining Bi-color CVD Coating.
The combination of substrate with TiCN, thick layer of Al2O3 and coating composed of TiN, excellent wear resistance makes it suitable for semi-finish steel.
Our grade: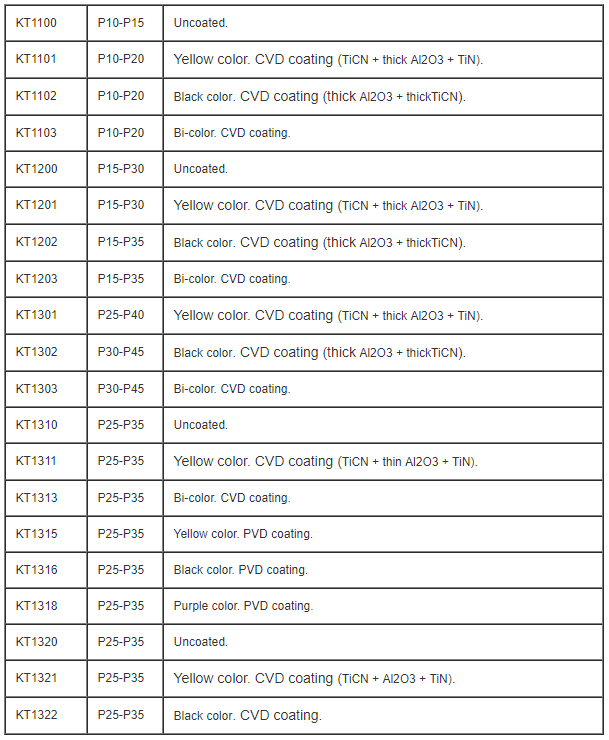 Specifications: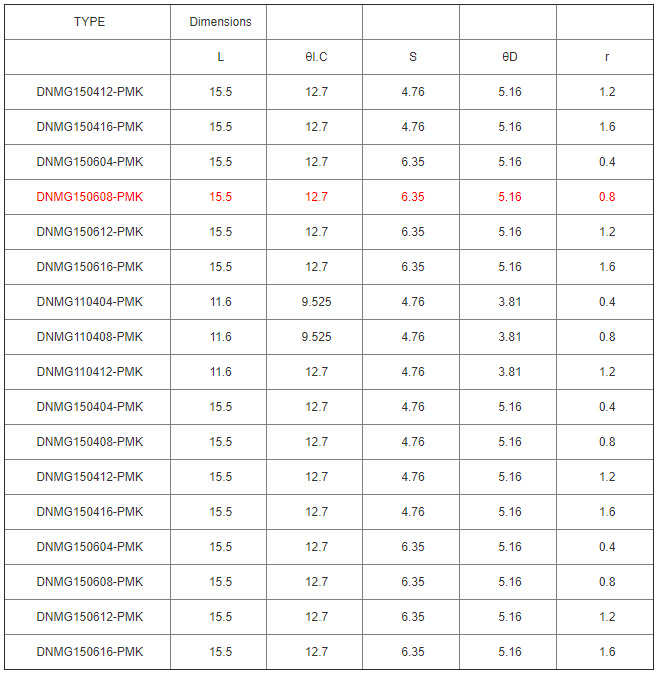 Feature Advantage:
1.DNMG it's a Kind of General Turning Inserts, kelite have many years experience of manufacturing these type of inserts.
2.We have regular orders from our customers all over the world, already very stable quality.
3. Have different sizes, coating color have yellow, black, purple, grey, broze and different chipbreakers for choice.
4. Usally we have samples in stock, we produce very large quantity every monthly, in this way, price will be the most competitive for our customers.