Detailed Product Description

High feed fast U Drill Inserts WCMX050308FN Excellent Wear Resistance For Steel / Stainless Steel / Cast Iron Indexable Milling Tools
Description:
Carbide Insert WCMX050308FN:
1. Made in 100% original carbide powder, excellent wear resistance and toughness;
2. High performance CVD/PVD coating, with super hard and smooth surface;
3. Performed 200% inspection, under GB/T 19001-2016 /ISO9001:2015 quality system control;
4. Professional chip-breaker design, provides perfect cutting performance;
5. Precise dimension, high accuracy;
6. Super long and consistent tool life;
7. Customized insert design, coating, marking, packing are available.
Applications:
1.WCMX types U drill tools
U-drilling insert series it's suitable for the processing of materials of carbon steel, alloy steel and austenitic stainless steel with high cutting efficiency under stable working conditions.
2.kelite have all series all size of U drill tools WCMX mould and samples in stock.
Specifications:

Recommend cutting parameters of carbide inserts: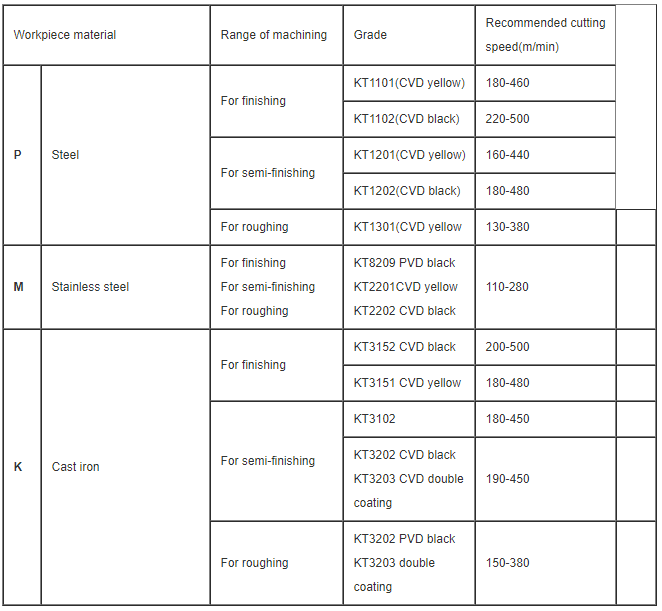 Feature Advantage
U-drilling processing speed is high, the cutting amount is large, the friction between the insert and the work piece is serious, the heat dissipation is difficult, the cutting temperature is high, and the cutting edge of the cutting insert is required to be sharp and strong.
Perfect unification of toughness and anti -plastic deformations.
Specially designed cutting edge have good unification of toughness and anti-plastic deformations.
Roughness of inserts surface it's after special treatment of surface, with effictively reduces cutting forces ,prevents work pieces adhering to surface of inserts and improves operation stability of inserts .
KT8225 is the recommended grade for our U-drilling insert series. It has the advantages of high strength and good impact resistance. The unique cutting edge design ensures sharp edge and good chip breaking performance. It is suitable for the processing of materials of carbon steel, alloy steel and austenitic stainless steel.
Perfect coating obviously improves abrasion resistence and anti-breakage of inserts ,also new coating technology providers better wear resistence and toughness.
Improved remain internal stress design ensures good toughness and anti-cracking performance.
Polishing treatment on coating surface make it suitable for cutting adhesive materials .