Detailed Product Description

Cnc Turning Inserts CNMG120408 R and L -X With Yellow Color CVD Coating For Steel/Cast Iron
Description:
Carbide Insert CNMG:
1. High hardness
2. Good hot hardness
3. Excellent wear resistance
4. Higher machining speed
5. Excellent production efficiency
6. Short production cycle.
CNMG120408 it's one type of CNC carbide turning inserts with good comment, it has very good reputation among our customers all over the world.
Suitable to the holders of DCLNR/L PCBNR/L PCLNR/L MCBNR/L MCLNR/L PCLNR/L.
It's cemented carbide insert of double color CVD coating. And this type has samples in stock commonly. Have different choices for dimention, chipbreakers and grade, normally it's 12 size, with different corner radius.
Applications:
KT 1201--- The combination of substrate with TiCN, Thick Al2O3 and coating composed of Tin,
excellent wear resistence makes it suitable for semi-finish steel.
KT3201 --- Gerneal grade for cast iron turning and milling.
New compound CVD coating grade, combines the compound coating and alloy matrix, outstanding wear resistence and intensity of inserts, suitable for cast iron during high speed, high feed process conditions,universal application not only for grey cast iron but also machining of nodular cast iron.
Our Main grade For Steel: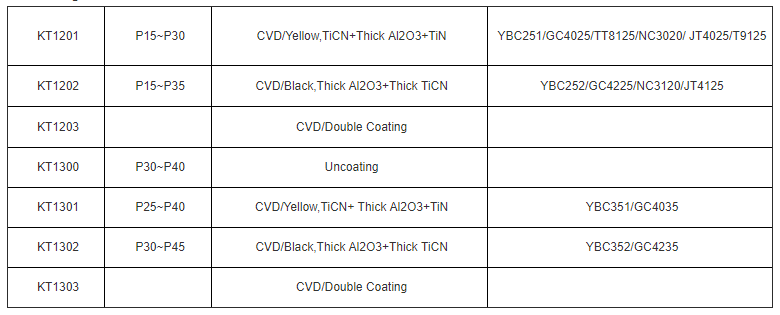 Our grade for cast Iron:

Specifications: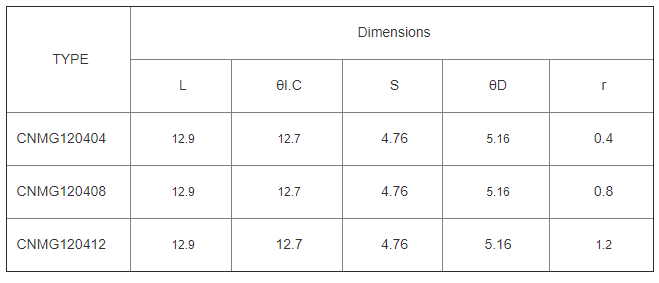 Feature Advantage:
1.CNMG it's a Kind of General Turning Inserts, kelite have many years experience of manufacturing these type of inserts.
2.We have regular orders from our customers all over the world, already very stable quality.
4. Have different sizes, coating color have yellow, black, purple, grey, broze and different chipbreakers for choice.
5. Usally we have samples in stock, we produce very large quantity every monthly, in this way, price will be the most competitive for our customers.