Detailed Product Description

Round Inserts RPMW1003MO-K Cnc Turning Inserts For Stee l/ Stainless / Cast Iron PVD Coating
Description:
RPMW1003MO-K it's one type of general turning Inserts,it's very welcomed by our customers all over the world. Have various size ,chipbraeaks and grade for choice.
Suitable to the holders SRDCN and SRGCR/L at the same it can used in different situations during machical turning process conditions.
It's coated tungsten carbide usually with yellow and black CVD and PVD coating, we also can provide other colors for examples purple / grey, or uncoated products if customer need.
This type usally have samples in stock, both steel, stainless and cast iron grade.
Applications:
For Steel grade P10-P25 it's versatile and excellet for finishing through rough operation on a wide range of steels.
For M05-M30 grade, it's suitable for light, medium milling;finishing ,semi-finishing of stainless and high temp alloy.
For K05-K25 grade, it is the first choice for medium to rough machining of cast iron ,nodular cast iron and under high cutting speed.
Our grade: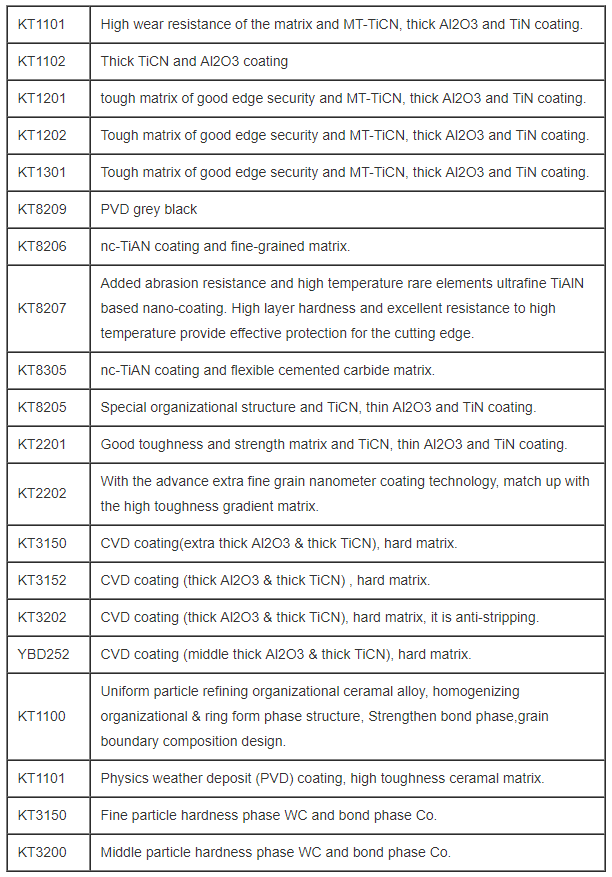 Feature Advantage:
1. RPMW1003 it's a Kind of General Turning Inserts, kelite have manufacture these types of insert for many years experience.
2. We have have regular orders from our customers all over the world ,already very stable quality.
3. Have different size ,coated color have yellow , black , purple ,grey ,broze and different chipbreakers for choice.
4. Usally we have samples in stock ,we produce very large quantity every month, in this way price it's lowest for our customers all over the world.