Detailed Product Description

Cutting Tools Cnc Turning Inserts VNMG160404-PMK For Cast Iron / SteelWith Excellent Wear Life Double Color CVD coating
Description:
Carbide Insert VNMG:
1. Made in 100% original carbide powder, excellent wear resistance and toughness;
2. High performance CVD/PVD coating, with super hard and smooth surface;
3. Performed 200% inspection, under GB/T 19001-2016 /ISO9001:2015 quality system control;
4. Professional chip-breaker design, provides perfect cutting performance;
5. Precise dimension, high accuracy;
6. Super long and consistent tool life;
7. Customized insert design, coating, marking, packing are available.
VNMG160412 it's one type of CNC carbide turning inserts with good comment, it is very popular among our customers all over the world.
Suitable to the holders of DVV8cc2e7240164328fdc3f0e5e21032c56 DVJNR/L MVVNN MVJNR/L.
It's cemented carbide insert of black CVD coating usually. And this type has samples in stock commonly. Have different choices for dimention, chipbreakers and grade, normally it's 16 size, with different corner radius.
Applications:
KT3202 --- Gerneal grade for cast iron turning and milling.
New compound CVD coating grade, combines the compound coating and alloy matrix, outstanding wear resistence and intensity of inserts, suitable for cast iron during high speed, high feed process conditions,universal application not only for grey cast iron but also machining of nodular cast iron.
Our grade:

Specifications: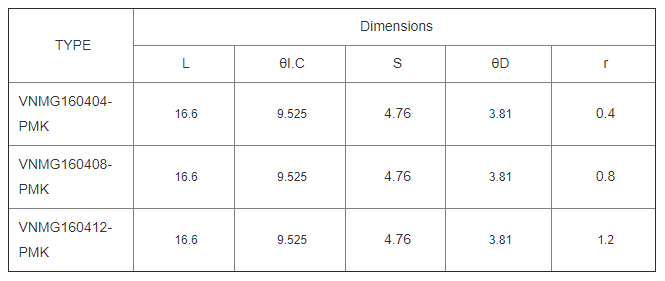 Feature Advantage:
1.VNMG it's a Kind of General Turning Inserts, kelite have many years experience of manufacturing these type of inserts.
2.We have regular orders from our customers all over the world, already very stable quality.
4. Have different sizes, coating color have yellow, black, purple, grey, broze and different chipbreakers for choice.